Regular price
Sale price
$14.00 USD
Unit price
per
Sale
Sold out
Introducing our whimsical Little Birdie Wallpaper in the design stencil - the perfect choice for adding enchanting charm to your child's room. This white wallpaper with black stencil designs of birds, flowers, and delicate leaves is designed to inspire creativity and imagination while maintaining a minimalist and neutral aesthetic.
Key Features for Children's Rooms:
Magical Whimsy: Transform your child's room into a magical wonderland with the whimsical stencil designs of birds, flowers, and leaves that spark their imagination and creativity.

Dreamy White Backdrop: The chic white background provides a blank canvas for your child to make their room uniquely their own. It's a versatile backdrop for their ever-changing tastes.

Timeless Design: The Little Birdie Wallpaper seamlessly combines modern and traditional elements, making it suitable for children of all ages, from babies to teens.

Versatile and Fun: This wallpaper's neutral palette allows it to adapt to your child's evolving interests and decor preferences. It's perfect for parents who love a minimalist yet charming room.

Easy to Clean: Rest assured that our wallpaper is easy to clean, making it a practical choice for children's rooms, where spills and messes are bound to happen.
Transform your child's room into a magical and creative space with the Little Birdie Wallpaper in Stencil. Let their imagination take flight with the enchanting birds and blossoms adorning the walls. Give them a neutral and versatile canvas to decorate and redecorate as they grow.
Make your child's room a place where dreams take flight. Shop today and watch your child's creativity soar with our Little Birdie Wallpaper (Stencil). Create a space where wonder and whimsy know no bounds.
View full details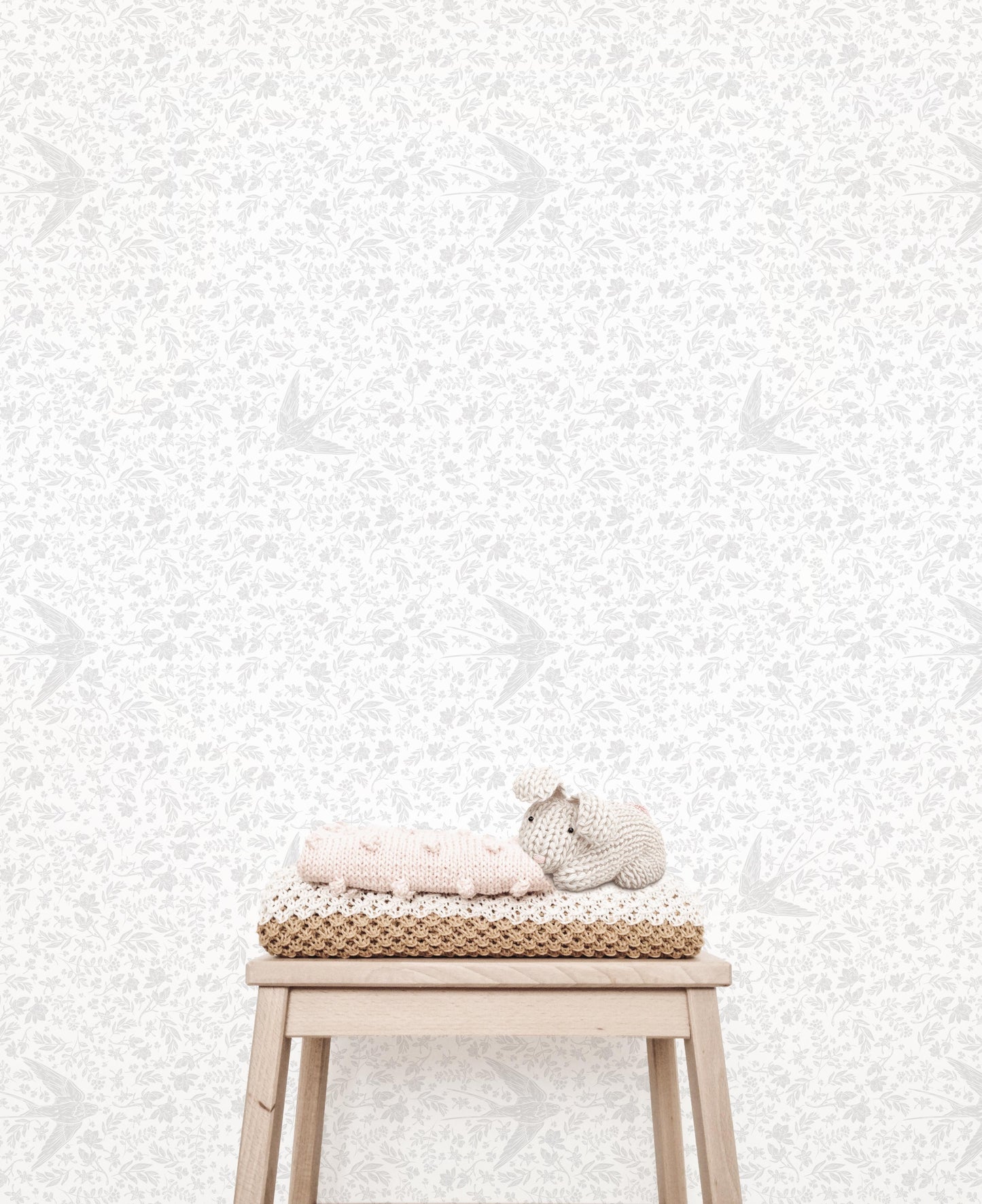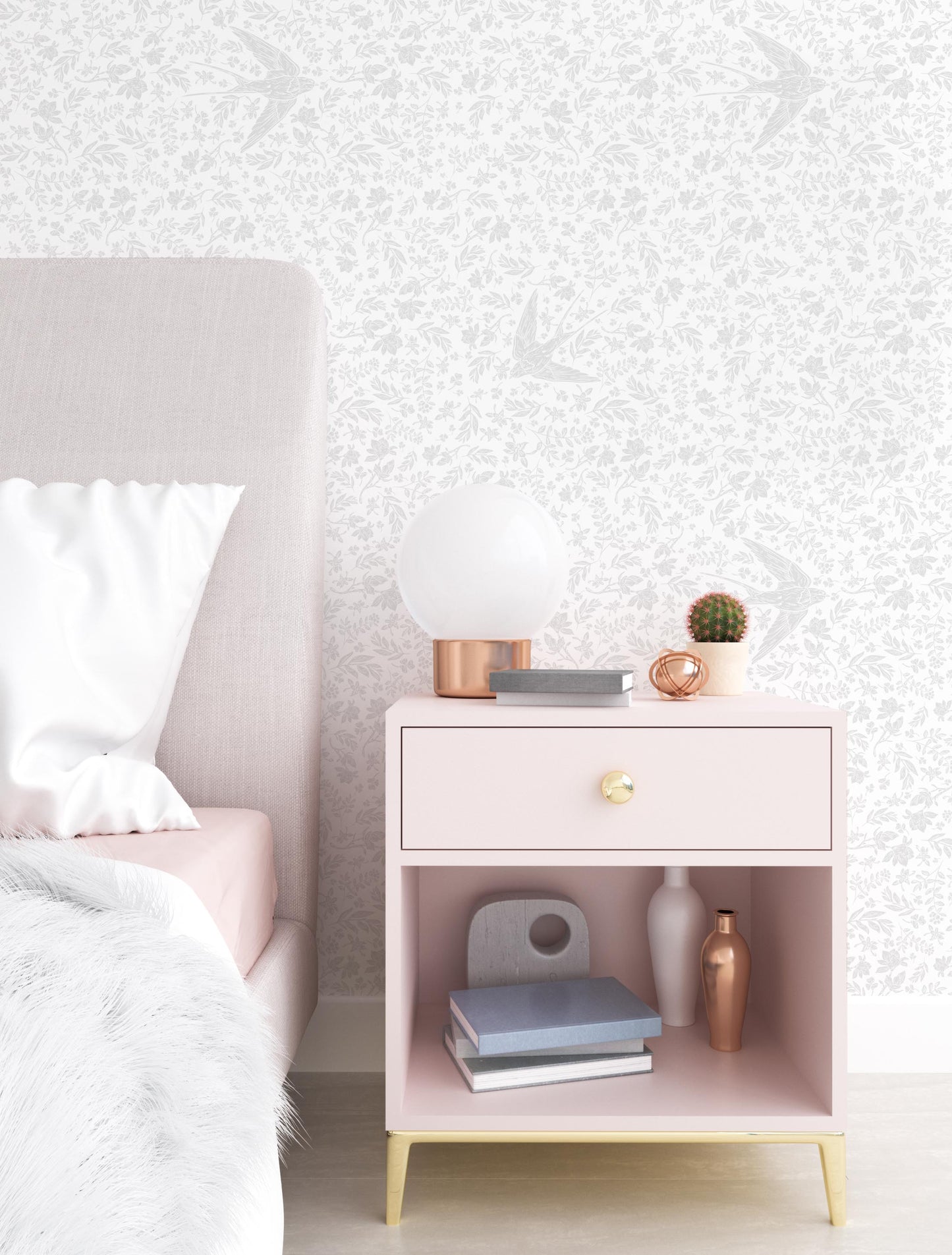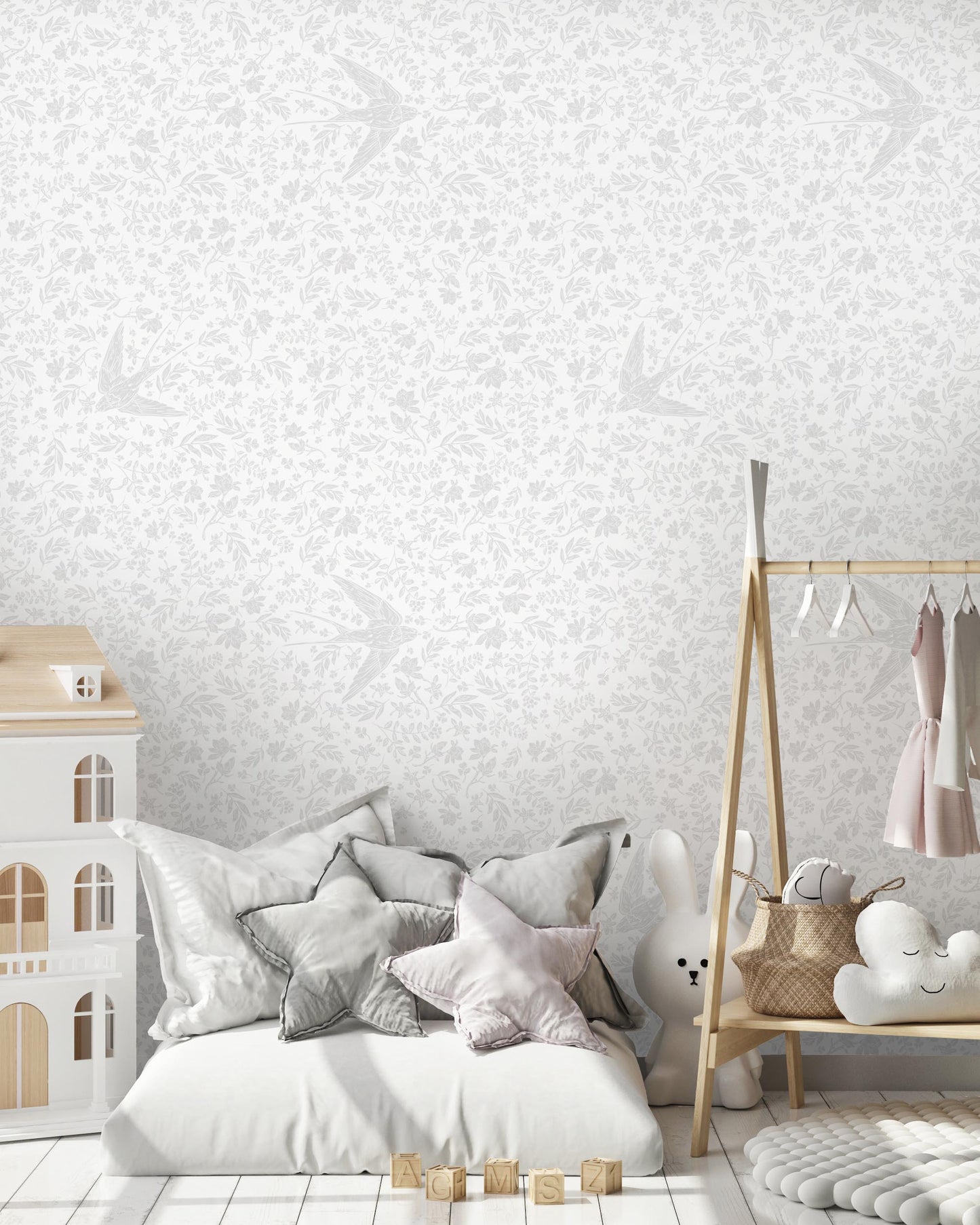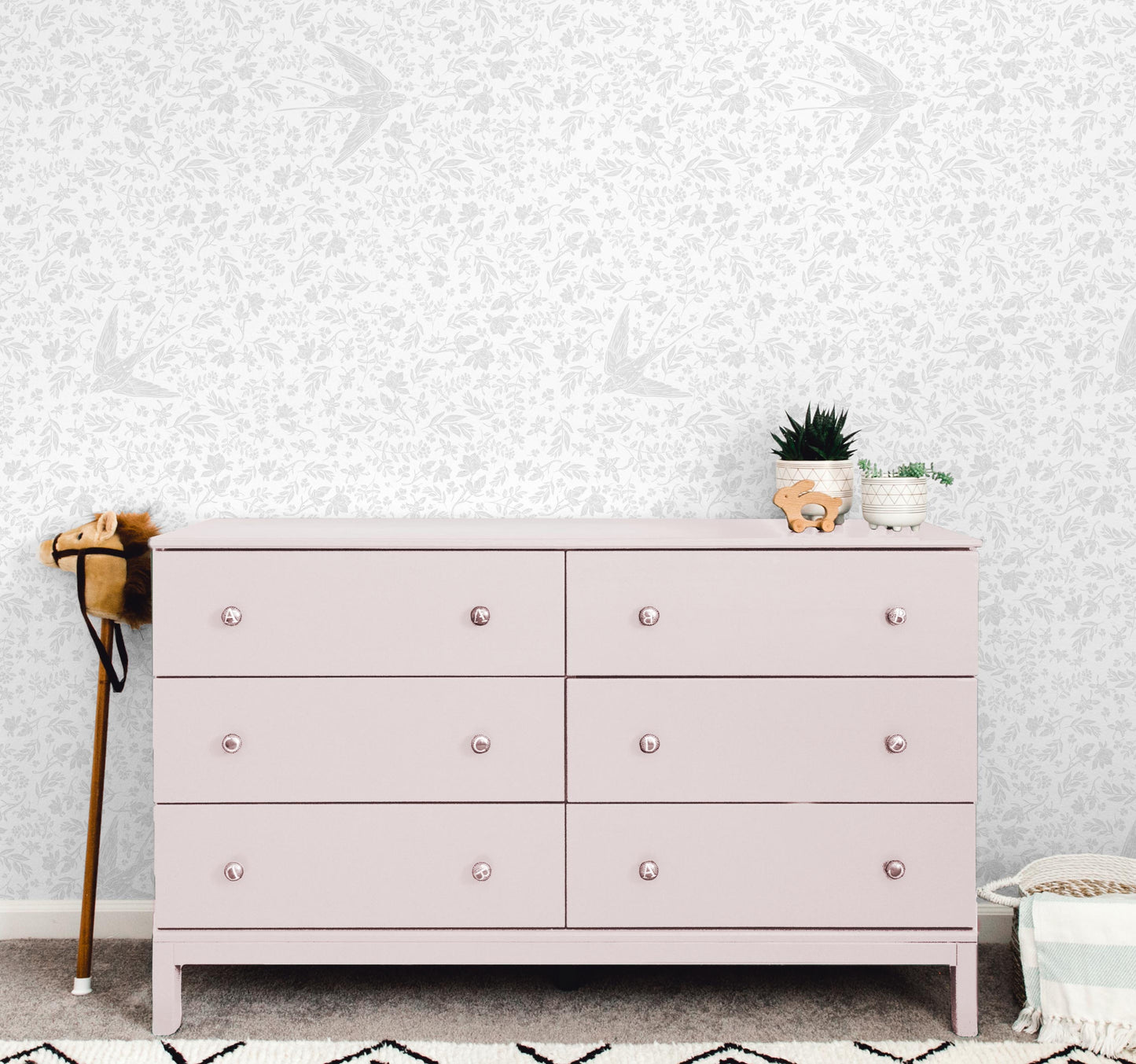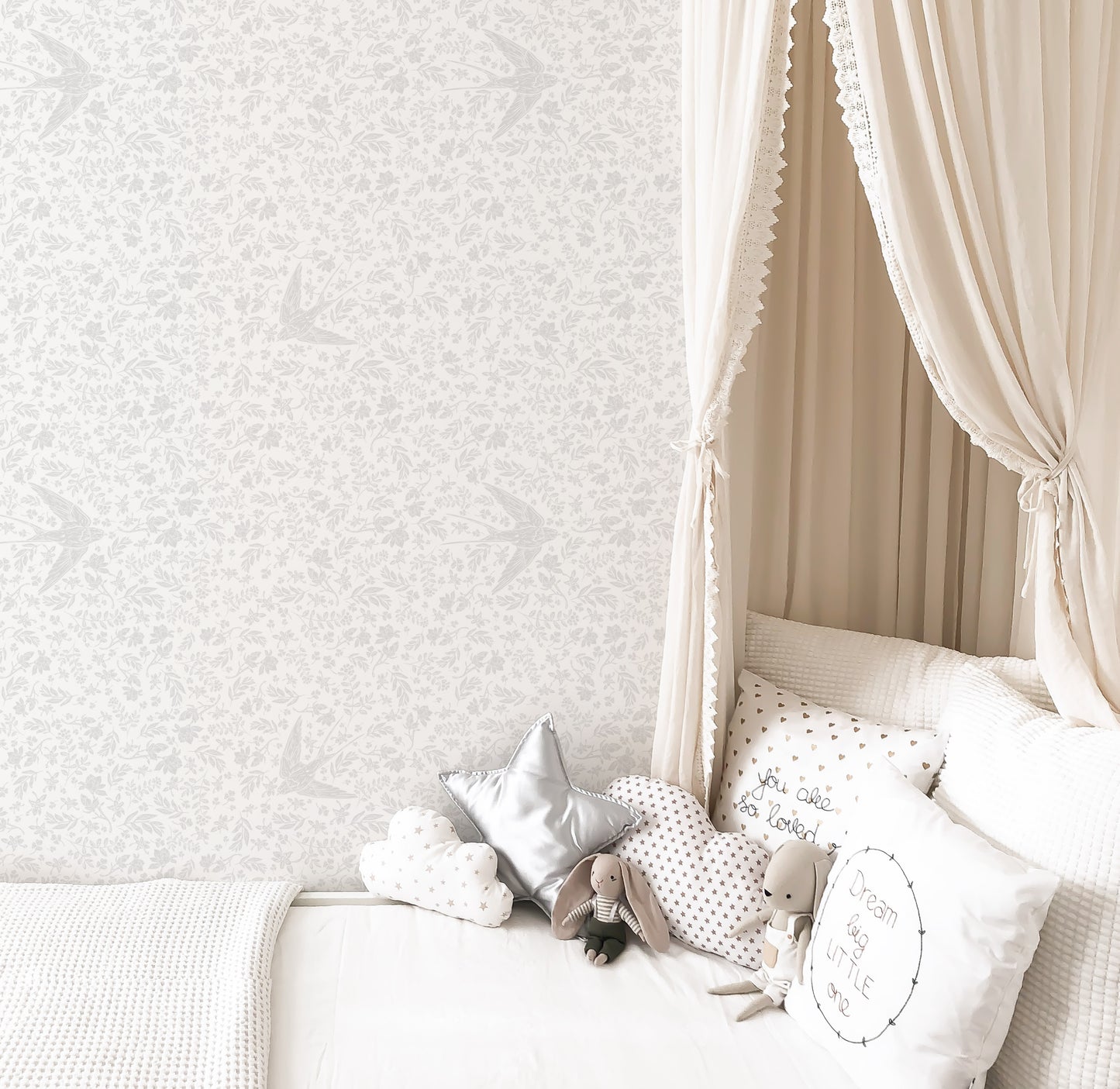 Have Questions? No Problem!
Product Facts

PRODUCT INFORMATION

🌿 Green & Safe Materials: At Fable and Fawn, we're committed to a safer and healthier world. That's why we exclusively print on fabric, avoiding vinyl and its harmful toxins that linger in our environment. Our fabric wall decals and wallpaper are eco-friendly, breaking down without leaving harmful plastics in the soil or our oceans.

🏡 Safer for Your Home: Our products are designed with your family in mind. We print with water-based inks, ensuring they are free from harsh chemicals. Your home, especially your children's rooms, remains a safe and healthy environment.

👍 DIY Installation: Installing our products is a breeze. They come with a self-adhesive backing, eliminating the need for glue. Safe for your walls and easy to apply.

🔄 Removable and Repositionable: Our wall decals and wallpaper feature a low tack self-adhesive backing that won't harm your walls. You can easily reposition them if needed, making installation worry-free.

🌞 Weather Resistant: Our products are designed to withstand all indoor weather conditions. They won't curl or shrink in extreme temperatures, ensuring long-lasting beauty.

🇦🇺 Australian-Made Quality: Our products are proudly designed and printed in Australia by our family business. We exclusively use high-grade 100% polyester fabric to offer the quality we'd expect for our own children.

⚠️ Warning: Suitable for Flat plasterboard with standard interior paints. NOT SUITED for textured or stainproof paints such as Teflon and Wash & Wear paint ranges. Please contact us for High-Tack options if unsure.
Custom Orders

Custom Wallpaper Orders

Custom orders will incur a non-refundable $50 setup fee, which will serve as a deposit.

What Will I Receive?

You will receive a draft of your measurements prior to approval, followed by a custom invoice. The $50 deposit will be deducted from your total amount if you choose to proceed.

Please note that all custom order quotes include a 10% product surplus to account for uneven walls.
Fable and Fawn cannot be held responsible for incorrect wallpaper measurements.

For all custom orders and enquiries, please email admin@fableandfawn.com.au
Applying our Products

Important Information

⚠️Texture Warning: Our products are not suitable for textured walls. If you have textured walls or are unsure, please email us for guidance. We have a product that can be used on textured walls - admin@fableandfawn.com.au
Suitable for Flat plasterboard with standard interior paints.
NOT SUITED for stainproof paints such as Teflon and Wash & Wear ranges. Please contact us for High-Tack options if unsure.
Wall Preparation: If you've freshly painted your walls, kindly wait for 30 days to allow the paint to fully cure before installing our products. This waiting period is essential for a successful application.

Apply Large Wall Decals and Wallpaper

Follow these steps for precise application:

Line your product up on the wall to find your desired location.
Peel back the backing sheet from the top section of your decal or wallpaper.
Stick the top of your wall decal or wallpaper to your wall, and gradually pull more of the backing sheet away, gently smoothing the decal or wallpaper onto your wall as you go, smoothing out any air pockets.

An application sheet will be sent with all orders.

Mistake-Proof

Don't worry if you make a mistake during installation. Our products can be easily removed and repositioned without damaging your walls. Even if they fold over, they can be unfolded without creasing the wallpaper or wall decals.
When Will My Order Arrive?

At Fable and Fawn, we create all our products with care, and each item is made to order.

Please note the following timeframes for printing and packaging before shipping.

While we strive for quick turnarounds, these times are generous to accommodate any potential delays:

Wall Decals & Prints: 4-7 business days
Wallpaper: 7-10 business days

Shipping

Once your product is printed and carefully packaged, it will be sent to an Australia Post outlet. You will also receive a tracking number for your order at this time.

Please check your junk folder if you haven't received the tracking number before reaching out to us.

For more information on tracking and delivery times, please refer to Australia Post's guidelines.

If you have specific delivery instructions, please provide them when placing your order.

In case you're not home upon delivery, you may receive a card to collect your order from your local post office.

Please note that if parcels are not collected within your local post office's specified timeframes, they may be returned to us. In such cases, additional postage fees may apply.